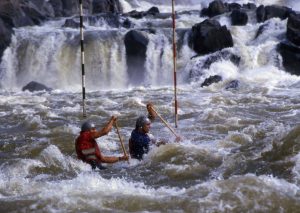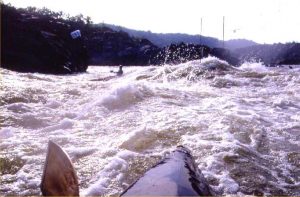 It's Back
We're bringing back the S-Turn Giant Slalom!
As early as 1969, the icons of Potomac River slalom hosted races from Horseshoe and ODeck, through S-Turn, to Rocky Island. Names such as Ron Lugbill, Bill Kirby, Davey Hearn, Bill Hearn, Joe Jacobi, Phil Coleman, Claudia Kerckhoff-Van Wijk, Jim Stuart, Eric Jackson, and Jamie McEwan would set up gnarly courses with gates above boils and whirlpools, and race down this natural, free-flowing river. As Jim Stuart recently posted on Facebook, "Slalom in the USA needs this level of passion!"
So let's do it! On Saturday, May 19, 2018, we plan to bring the S-Turn Giant Slalom back to life. The course will be designed to welcome intermediate paddlers, as well as challenge elite slalom racers. We anticipate Olympic and World Cup athletes in featherweight composite boats competing alongside intermediate paddlers in plastic creek boats and on SUP boards. We encourage everyone who has the skills to navigate S-Turn and Mather Gorge to participate!
What is the S-Turn Giant Slalom?
A giant slalom race from the Fisherman's Eddy area, with both down and up gates, through the ODeck, Portage, and S-Turn rapids, finishing at Rocky Island. Racers will be penalized for touching or missing a gate.
Start practicing your big-water ferries and pivot turns!
(Anticipated) Schedule
7:00 AM Staging Pre-Race Table Opens
8:00 AM Racer Meeting & Safety Briefings
9:00 AM Safety Crew moves to Course
10:00 AM Races Start
2:00 PM Anticipated Completion
Race Director: Ashley Nee
First Photo by Bill Kirby, 1985, (posted to Facebook by Chris Preparato)
Second Photo from American Whitewater (posted to Facebook by Jim Stuart)